An anti-drug fund has been established under Decision No. 110/2008/QD-TTg by the Prime Minister.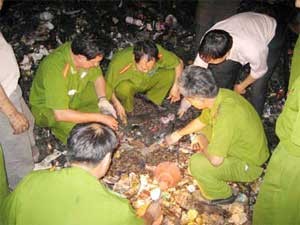 Part of this fund will be spent on purchase of equipment for anti-drug forces.
The fund will be sourced from auctions of assets and exhibits (except drugs) seized from drug cases, from contributions of local and foreign individuals and organizations, and from grants by the State budget.
Thirty percent of the total amount collected from these sources will be used as rewards to individuals and agencies that have contributed to the detection and prevention of drug-related crimes.
The fund will be used to conduct campaigns to crack down on drug rings, to purchase essential machines and equipments for drug police forces, to support investigations into drug cases, and to help erase plants containing narcotics.
This fund will also be spent on supporting individuals who are wounded or fall sick in fighting drug, and aiding operations of detoxification centers.
As of June 2008, the country had about 169,000 drug addicts, down by 9,212 addicts compared to the end of last year. Localities posting high reductions in drug addicts are Ho Chi Minh City (down 7,053 addicts), Hai Phong, (down 471) and Long An (down 414).