An antique text book with a Vienamese map used during the reign of King Tu Duc, showing the Hoang Sa archipelago has just been discovered by a lecturer in Phu Xuan-Hue University.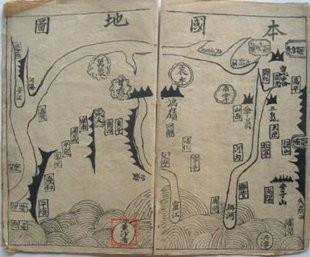 The red note marks Hoang Sa archipalego on the map in the antique text book.
According to lecturer Tran Van Quyen, the text book was used to teach children in primary schools during the reign of Tu Duc, a patriotic king of the Nguyen dynasty.
This amazing discovery was announced by the Da Nang Institute of Economics and Social Development in a research report conducted by them titled, "Operation of Hoang Sa Team in Vietnamese History", a part of a project to document Vietnam's sovereignty on Hoang Sa (Paracel archipelago) and Truong Sa (Spratly archipelago).
Quyen said that the textbook was issued for the first time during Tu Duc's 6th year in 1853 and used in all primary schools at that time.
The textbook covers many subjects based on the three concepts of heaven, land and humans. The book includes Vietnamese history, reports on agriculture yield, knowledge of Vietnamese society (kings, dynasties and dates of Vietnam since its foundation), nature (geography, astronomy) and ways of self-improvement.
The text book has a map of Vietnam and a figure depicting the Sun, Moon and human body. The textbook had also been reissued many times through various kings' reigns.
The Hoang Sa map inside the textbook is named "National Geographic Map" and lies on the 15th-16th pages. Large provinces, mountains from Nam Quan to Bien Hoa, Vinh Long are also shown in the map. Notes of towns, districts of provinces are marked clearly on the map.
The Hoang Sa archipelago is marked on an offshore area of the map, opposite to the Thua Thien and Quang Nam provinces.
Ph.D Tran Duc Anh Son, Deputy Head of the Institute said that the text book discovery is a highly valued document which reveals that the Nguyen Dynasty was clearly aware of the country's sovereignty of the sea and islands.
"This is the first time we know for certain and without doubt that a feudal regime textbook referred to Vietnam's sovereignty of the Hoang Sa archipelago", said Mr. Anh Son.
He added that this discovery was very useful, especially in educating the youth on Vietnam's sovereignty of the sea and islands.
Lecturer Tran Van Quyen introduced the textbook at a scientific seminar on Culture of Sea and Islands. The announcement of the Hoang Sa map in the textbook was unanimously appreciated.
By Van Nguyen*-Translated by Ngoc Minh
*The author is a reporter of the VN Express