The Ho Chi Minh City Youth Union will officially launch the APEC-Viet Nam Integration Campaign's Website on Saturday in a bid to set up a meaningful and exciting forum for Vietnamese students to engage APEC issues this November.
Visitors to the website
www.apec-vnstudents.com
will be provided with the history and development of APEC as well as various terms and concepts regarding globalization, regionalism and international trade cooperation.
Particularly, the events of APEC Viet Nam will be updated on the website and visitors can share their opinions and ideas on APEC-concerned issues with other local students and APEC volunteers nationwide.
According to the website's administrators, the website aims to bridge a gap between Vietnamese students and international communities as an initial step to select participants for the "Towards APEC's future" workshop this October.
Viet Nam Student's Integration Campaign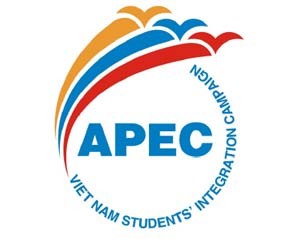 Logo of the Viet Nam Students' Intergration Campaign.
The website comes as part of a greater effort by the student group called "Praise the Dreams – Share the Visions", a campaign aiming to encourage Vietnamese students to learn more about APEC and what Viet Nam's integration means to the nation. The campaign will take place in Ho Chi Minh City until the end of October, 2006.
In addition to the website, the initiative includes an online forum, a quiz-contest among 25 universities in Ho Chi Minh City, and the official "Towards APEC Future" workshop named inviting selected outstanding students.
According to Mr. Vo Thanh Hung, member of the campaign's Organizing Board, attendants in the workshop will work on specific APEC pertaining to the future of APEC with the consultancy of many economic, political specialists under the observation of the Singaporean APEC Secretariat and Viet Nam's APEC 2006 Task Force.
The program will help Vietnamese students become leaders, Mr. Hung added, saying that instilling the proper values towards the country's integration in Viet Nam's youth is essential to meeting future international demands.
Within the framework of the campaign, a popularization movement sponsored by various local press agencies will also be launched distributing posters, banners, and 30,000 leaflets to over 25 universities in the city.