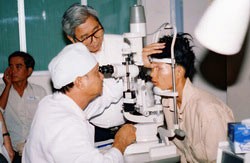 Doctors examize a blind patient
The Ho Chi Minh City Sponsorship Association for Poor Patients (SAPP) was given VND164 million from Mrs Le Thi Hong Phuc on April 20.
The money collected from donations to her older sister's funeral, Mrs Le Thi Hong Ngoc, will be spent on treating 328 blind people.
SAPP received around VND2.4 billion from 81 funerals to help over 4,700 poor blind patients detect light again after promoting the campaign of charity funerals four years ago.