The recent Shangri-La dialogue in Singapore revealed that most participants were more worried about regional security since China moved an oil rig into Vietnamese waters.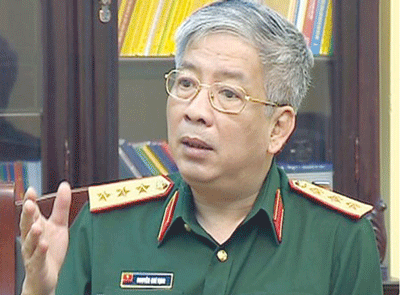 Deputy Defence Minister Nguyen Chi Vinh in an interview with the Vietnam News Agency.
Many even said they were concerned China's actions might spread like an epidemic.
This was stated yesterday by Viet Nam's Deputy Minister for Defence, Senior Lieutenant General Nguyen Chi Vinh, who has just returned from the annual Asia security summit.
Vinh said that delegates were also worried about how to stop China's behaviour affecting other parts of Asia and the world.
In an interview with Vietnam News Agency after coming back from the dialogue, he said if this happened, countries in the region and the rest of the world would be thrown back into an age where "people could take swords or knives to other people's houses and do what they want". "However," he said, "the 21st century is not such period."
"I have attended many international conferences on security and the Shangri-La dialogue is one of very few to reach such consensus," he said.
"All request China to stop its unilateral actions and violence aimed at getting its own way," he said.
The three-day dialouge, ended last Sunday, drew the participation of more than 400 delegates from 30 countries and international organisations.
Delegates at the conference said such actions threatened regional peace and security and clearly identified the nation that carried them out.
The Japanese Prime Minister Shinzo Abe, the US Secretary of Defence Chuck Hagel and speakers at all levels voiced the same view that China's actions in the East Sea, particularly the illegal installation of its oil rig Haiyang Shiyou-981 in Viet Nam's waters, seriously violated international law, Vinh said.
"As you know, international relations are complicated and some countries may think, but not speak out. However, but no country sympathises with China's actions," he added.
"The truth would not emerge if no one dared to speak out in front of such a colossus," he said.
"All participants spoke of equality, peace, stability and the handling of the issue by peaceful measures," he said.
Most of issues raised by participants were related to maritime security.
Vinh said that if what the head of the Chinese delegation said at the Shangri-La dialogue and what China had actually done in the East Sea revealed that "they say one thing and do another".
"There is one thing we need to make clear: China does not only present lies about what it did, it also murders the truth," Vinh said.
"The claim by the leader of the Chinese delegation that Vietnamese ships disturbed the Chinese rig was not true," Vinh said.