Connectivity is key to promoting co-operation among Asian nations, and the countries involved need to further foster links to deal with common challenges, said Deputy Prime Minister Vu Duc Dam.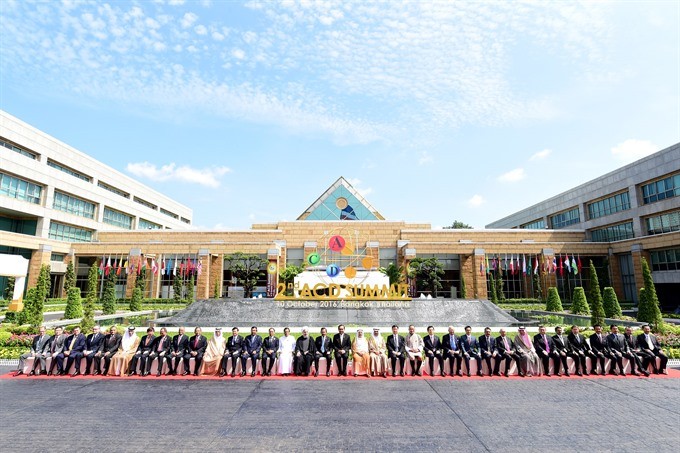 A group photo of leaders participating in the dialogue. VNA/VNS
Addressing the 2nd Asia Co-operation Dialogue (ACD ) Summit which opened in Thailand yesterday, Dam suggested multi-dimension and multi-sector connections, especially in transport, logistics, investment and trade, tourism, and cultural exchange. He particularly stressed the significance of ACD co-operation and efforts made by host Thailand and other member nations in seeking measures to make intra-group co-operation more effective and practical.
Asia's dynamic development adds momentum to world economic growth, contributing to addressing common global issues, he said.
In his opening speech, Thai Prime Minister Prayut Chan-ocha said the 2nd ACD Summit will lay a foundation for future sustainable development co-operation in Asia.
Themed "One Asia, Diverse Strength", the summit reflected the determination of ACD member nations to promote development in Asia through enhancing friendship and creativity, united efforts and mutual trust, he said. The Thai PM said Asia maintained an average growth of 5 per cent – the highest level in the world – emphasising the region's role as a main driving force for promoting the global economy.
To realise the ACD vision to 2030, it is necessary to focus on key co-operation pillars in line with the 2030 Agenda for Sustainable Development, he noted.
The ACD should serve as a bridge linking sub-regions in the region and allowing them to move towards fully tapping resources and strengths, he stressed, adding that Thailand is willing to be a connector in the process.
At the summit, leaders from the ACD member countries clarified contents of six key pillars of co-operation, including: connection; science, technology and renovation; education and human resources development; relationship between food security, energy and water; culture and tourism; and promotion of approaches to sustainable and comprehensive growth.
The ACD was inaugurated in June 2002 in Cha-Am, Thailand, where 18 Asian foreign ministers met together for the first time. It is a continent-wide forum, aiming to consolidate Asian strengths to build an Asia of peace, development and prosperity.
Fostering ties
On the sidelines of the summit, Deputy PM Đam suggested enhancing bilateral co-operation in various fields during a meeting with Lao Prime Minister Thongloun Sisoulith.
The Deputy PM proposed further facilitating all-level visits and thoroughly preparing for the annual high-level meeting between the two Politburos, the 39th meeting of the Inter-Governmental Committee on Bilateral Co-operation, celebrations for the 55th anniversary of diplomatic ties, and the 40th anniversary of the signing of the Việt Nam-Laos Treaty of Amity and Co-operation.
Expressing thanks to the Lao Party, Government and people for helping Việt Nam recover from prolonged drought and saline intrusion in the south through US$257,000 in financial aid and increased water drainage in the Mekong tributary, he called for continued mutual liaison and sustainable and effective management and use of Mekong water resources.
The Lao PM said both sides should continue maintaining regular high-level visits and exchanges to increase the sharing of information and experience. He hailed ministries, localities, businesses and peoples for realising bilateral co-operation agreements and conventions over the past years.
Deputy PM Đam also told Sri Lankan President Maithripala Sirisena yesterday that Việt Nam wants to further the traditional friendship and co-operation with Sri Lanka.
Both sides took note of significant developments in multiple sectors, such as economics, justice, defence, culture, education and agriculture.
But they acknowledged that room for bilateral co-operation remains extensive. They agreed the two countries should increase the exchange of high-level visits and organise the fourth meeting of the inter-governmental committee at the foreign minister level and the third political consultation soon.
The two countries should seek ways to boost two-way trade revenue from the current average figure of US$200 million per year, with agriculture and fisheries considered for joint projects.
Deputy PM Đam thanked Sri Lanka for backing Việt Nam's bids to run for seats in UN bodies and asked for the country's support for Việt Nam's candidacy for the post of UNESCO Director-General for the 2017-2021 tenure.
Đam also met with Qatar counterpart Ahmad Bin Abdullah Bin Zaid Al-Mahmoud yesterday, and the two reached consensus on more delegation exchanges, mutual support at international forums, and bilateral trade enhancement.
Đam said he expected Qatar to acknowledge Việt Nam as a full market economy soon, as agreed at the 2nd Việt Nam-Qatar joint committee meeting.