A study to examine the impact of air pollution on the health of people living in poverty in Asia was officially launched on Tuesday in Ho Chi Minh City.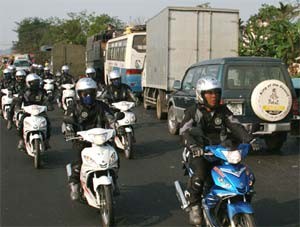 Traffic on a highway near Ho Chi Minh City (Photo: Tuong Thuy)
The 30-month project will study how air pollution affects the health of children and their families, and whether the effects among the poor are higher.
"The levels of both air pollution and the extent of poverty in Ho Chi Minh City are somewhat lower than those typically found in many large cities in developing countries," said Robert O'Keefe, Vice President of the US-based Health Effects Institute (HEI).
"But the technical capabilities and commitment of our Vietnamese partners coupled with the availability of high quality health and environmental data led to the selection of Ho Chi Minh City as the first to be studied and underscored its role as a model for others," he added.

HEI is an independent research organization providing relevant science on the health effects of air pollution. HEI receives half of its core funds from the US Environmental Protection Agency and the other half from the worldwide motor vehicle industry.
The project is funded by a grant of US$600,000 from the Asian Development Bank (ADB). HEI and the Ho Chi Minh City government will contribute US$200,000 and US$150,000, respectively, toward the project's total cost of US$950,000.
"We are pleased that a team from Ho Chi Minh City has been selected to lead the first comprehensive study in Asia to examine these important questions," said Dr. Le Truong Giang, deputy director of the city Department of Health.
The project is led by a team from the department and the city Environmental Protection Agency working with HEI scientists in Asia programs. It is conducted under the auspices of the Clean Air Initiative for Asian Cities, an ADB supported initiative that promotes the improvement of air quality management in Asia.