Issues of house ownership by overseas Vietnamese were discussed by the National Assembly on May 22, including an expansion of the list of overseas Vietnamese entitled to own houses in Vietnam and compensation for them in case of land acquisition.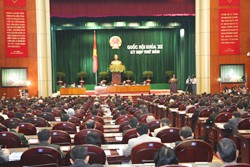 The current National Assembly sitting in Hanoi (Photo: VOV)

There are as many as three million Vietnamese living abroad, but after three years since the Housing Law, just 140 overseas Vietnamese have obtained a certificate of house ownership, said Construction Minister Nguyen Hong Quan.
The situation is blamed on a few of articles of the Housing and Land laws, which are no longer suitable to the needs of ownership by many overseas Vietnamese.
Article 126 of the law states that overseas Vietnamese wanting to own a house in Vietnam must be one of the five approved groups: long-term investors in Vietnam; or people who are credited with service to the country; or culturists or scientists who regularly return to Vietnam for professional activities; or people who desire to return to Vietnam for a stable residence; or people who are allowed to stay in Vietnam for at least six months.
In practice, many overseas Vietnamese, including experts and people who marry a Vietnamese citizen, are not allowed to own a house in Vietnam, as they do not fulfill the requirements.
The law has failed to encourage overseas Vietnamese to return to their homeland, said Mr. Quan
To improve the situation, the Government wants to amend Article 126 of the Housing Law and Article 121 of the Land Law, the meeting was told.
The amendments will increase the number of overseas Vietnamese groups, by two, who are eligible to own a house in Vietnam.
One of the two groups includes Vietnamese settling abroad with Vietnamese nationality who are allowed to stay in Vietnam for at least three months .
The other group includes people of Vietnamese origin settling abroad who are subject to the 2008 Law on Nationality and are allowed to stay in Vietnam for at least three months  and can meet at least one of the following criteria: direct investors in Vietnam; people credited with service to the country; culturists or scientists who are needed by Vietnam and are working in Vietnam; people whose spouse is Vietnamese and living in Vietnam and their houses are part of the common assets of the couple.
Meanwhile, Article 121 is proposed to be amended to give overseas Vietnamese who own a house in Vietnam two more rights: the right to lease their houses and the right to authorize others to manage their houses.
Compensation in case of land acquisition
"I hope that after the amendments are passed, overseas Vietnamese will no longer face troubles when they desire to buy a house in Vietnam," said lawyer Nguyen Dang Trung, a NA deputy from Ho Chi Minh City.
He also pointed out that overseas Vietnamese have yet to benefit from some of the rights stated in Article 106 of the Land Law, including the right to be compensated in case the land on which their houses are located is acquired by the Government.
"It is needed to revise the Article to ensure the rationality of the law," he said.
"No compensation for overseas Vietnamese who have legally purchased a house in such a case is very unreasonable," said NA deputy Tran Du Lich, also of Ho Chi Minh City.
Another deputy, Tran Thi Loan, from Hanoi, maintained that if those overseas Vietnamese who are considered eligible to own a house in Vietnam, then they should be given the same rights related to their houses as those given to Vietnamese citizens.
"It is necessary to treat them in an equal way," she emphasized.
"There should not be limits on the number of houses or land plots they are allowed to buy," she added.
 
In reply, Ha Van Hien, chairman of the NA's Economic Committee, explained that such limitations on house or land ownership are not applied to overseas Vietnamese who hold a Vietnamese nationality.