Australian Consul General Mal Skelly has donated VND159 million (US$9,800) to improve living standards among orphans, homeless children and the disadvantaged in Ho Chi Minh City.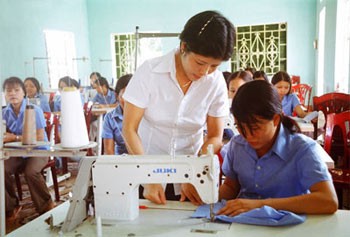 In a sewing class
VN106 million (nearly US$6,500) of the funds are to go to purchasing equipment for sewing classes at the Go Vap District Vocational Training Center for Youth.
The remaining money is to be used to renovate the roof of an An Hoa center in District 6 providing health education and care for homeless people with emphases on RSH, STI & HIV/AIDS.
The center is sponsored by Medicins du Monde France (MDM). MDM is dedicated to the most vulnerable populations and victims of poverty and violence, regardless of race, social status or beliefs. MDM set up an innovative structure of health and social services for excluded people in District 6, HCMC, in the year 2000.