The Agent Orange Justice – Australia Vietnam Solidarity Network (AOJ) officially made its debut in Sydney on June 1, with the aim of supporting Vietnamese AO victims.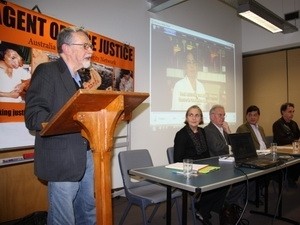 John Percy, National Secretary of the Revolutionary Social Party delivered speech at the AOJ (Source: Vietnamplus)
At the debut ceremony, AOJ launched a campaign to call for assistance to Vietnamese AO/dioxin victims and demand US chemical companies to clean up the environment and compensate the victims in the Southeast Asian country.
John Percy, National Secretary of the Revolutionary Social Party said the ceremony that although the war ended over 35 years ago, many Vietnamese people are living with heavy after-effects caused by AO/dioxin sprayed by US troops.
Percy said AOJ is building a website at www.agentorangejustice.org.au to gather more support for the victims and serve as a forum for everyone to better understand the aftermaths Vietnamese people are suffering from this toxic chemical.
The Vietnamese Consul General in Sydney, Mai Phuoc Dung, spoke highly of AOJ's initiative, promising to work closely with AOJ in the campaign to seek justice for AO/dioxin victims in Vietnam.
AOJ was established as apart of an international campaign to force the US government take responsibility for the consequences of AO/dioxin that US troops sprayed onto Vietnam from 1961 to 1971.