An atmosphere of gloom pervades the fishing village in Thong Nhat Ward of the southern province of Dong Nai as fish continue to die in the waters.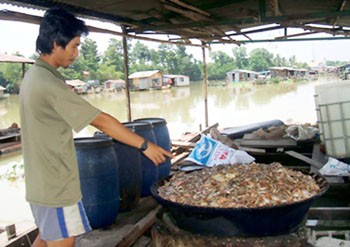 A farmer with his dead fish (Photo: SGGP)
This has been a recurring phenomenon since last June and despite all efforts by farmers to seek help from concerned organizations, no concrete action has yet been taken to solve the mystery.
Farmer Nguyen Dinh Thang found perfectly healthy fish surfacing on the water on the afternoon of February 13, but by late evening they were found to be gasping for breath. 
He immediately tried to churn the water to create oxygen to save them, but all in vain as only five hours later the fish were found dead.
Thang had raised the carp fish for five months but lost them all in just one night. This resulted in a huge loss of VND60 million (US$2,900). Since last June, he has suffered similar losses five times which have left him with mounting bank debts.
Bui Van Bon who lost about 3,000 kilogram of carp, red snapper fish and ornamental fish, was actually expecting to harvest in 15-20 days. Over 60 households were also lamenting the fate of their fish crop as fish have continually died since last June.
Reasons unclear
The Thong Nhat Ward People's Committee and Farmer Association have reported a total loss of 260 tons of fish since last June.
The Departments of Natural Resources and Environment and of Science and Technology have taken river water samples to analyze but have not yet given any satisfactory answer.
The departments made a general statement claiming that the river water was polluted by waste water flowing from households and some plants along the river. The pollution levels of the water and  the plants' names have still not been determined.
Tran Van Sua, deputy chairman of the Thong Nhat Ward Farmer Association said that the river intersection where farmers were raising fish is a tributary branch of the Dong Nai River.
Many households have witnessed some plants releasing waste residues into the river at night. As soon as the tide receded, foam appeared on the rivers surface. People have taken photos and sent them to the relevant authorities but have not received any response.
Associate Professor Nguyen Dinh Tuan, principle of the Natural Resources and Environment College in Ho Chi Minh City said that if concerned authorities really crack down on solving this issue, they will certainly be able to pinpoint the culprit.