Major general Nguyen Van Khanh, director of the Dong Nai Province Police force admitted to being unaware of the fact that the Sonadezi Company was releasing untreated wastewater into the Dong Nai River for the last several years.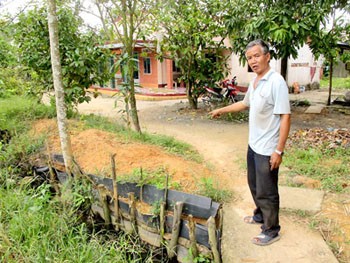 A Tam An Commune resident has built an embankment to prevent wastewater from flowing into his house in Long Thanh District of Dong Nai Province (Photo: SGGP)
Khanh now promises to coordinate with the Ministry of Public Security and other relevant organizations to tackle this serious issue.
According to reports from the Department of Natural Resources and Environment in Long Thanh District, the company's wastewater treatment plant has been polluting the surrounding areas since 2005, when the plant first came into operation.
Though the department has worked with the local community and authorities to create more awareness on the issue, no concrete action has so far been taken.
From 2007-2010, Tam An Commune residents sent petitions to all provincial authorities. The district People's Committee has also sent officials on several occasions to investigate the case and though evidence collected shows that Sonadezi is causing serious pollution, no measures have been taken as yet.
Nguyen Van Ngau, chairman of the Farmer's Association in Long Thanh District said that the association has reported the matter to authorities many times, but no response has been forthcoming.
Related articles:
Sonadezi Company fleecing other enterprises
Untreated wastewater polluting farmland
Company caught polluting Dong Nai River