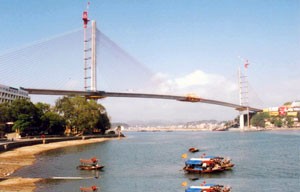 Bai Chay bridge in the northwestern province of Quang Ninh
The final work of the Bai Chay bridge construction must be finished soon to open it for traffic early September, said Minister of Transport Ho Nghia Dzung on his working visit to the construction site on August 5.
The unfinished parts of the Bai Chay bridge in the northwestern province of Quang Ninh are lane-dividers and a water drainage system.
Speaking at a meeting with related units of the construction, Minister Dzung instructed that they must ensure not only the progress of the construction but also, and more importantly, the quality of the bridge.
Started mid-2003 by the Japan's joint partners Shimizu-Sumitomo-Mitsui and the Transport Ministry's Project Management Unit 18, the construction of the bridge, worth VND2.1 trillion (US$134 billion), is expected to be completed on September 2, 2006.
The last part of the bridge was cemented in Ha Long city on the morning of April 30, 2006. The main bridge will be 903m long and 25.3m wide, with a clearance height of 50m, allowing 50,000-ton vessels to pass through.
Spanning the Cua Luc Straits in Ha Long City and connecting Bai Chay with Hon Gai, once operational, the bridge will facilitate traffic on National Highway No. 18, which links Ha Long City and Ha Noi, and is expected to boost the economy of not only Quang Ninh but also the northern port city of Hai Phong and Ha Noi.
Bai Chay is the third largest pre-stressed concrete cable-stayed bridge in the country, following the My Thuan bridge in the south and the Binh bridge in Hai Phong.
Related link: