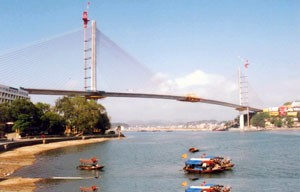 Bai Chay bridge in the northwestern province of Quang Ninh
The builders of Viet Nam's third-longest suspension bridge, Bai Chay, at the edge of Ha Long Bay, have quickened their pace to make up for the time lost to bad weather in recent months.
Project director Mr. Vu Huu Hoang says the contractors are confident of finishing the job by the end of August so that testing can start in early September.
The initial tests may take a week to ten days and will be followed by several final tests lasting for two to three weeks.
"So it won't be ready for National Day (September 2) as we'd planned, but it is still possible the bridge will open to traffic in October, still one month ahead of plan," Mr. Hoang said.
Spanning the Cua Luc Straits and connecting Ha Long City and Bai Chay in Hon Gai, the bridge will be a welcome addition to National Highway 18, which links Ha Long and Ha Noi, and should boost the economy of Quang Ninh province, the nearby city of Hai Phong, and even Ha Noi.
The biggest pre-stressed concrete cable-stayed bridge in Viet Nam is My Thuan over the Tien River in the south. Number two is Binh Bridge in Hai Phong.