The Department of Market Management in the southern province of Dong Nai on April 19 detected and seized banned lean-meat chemical substances from two stores in Cam My and Trang Bom Districts.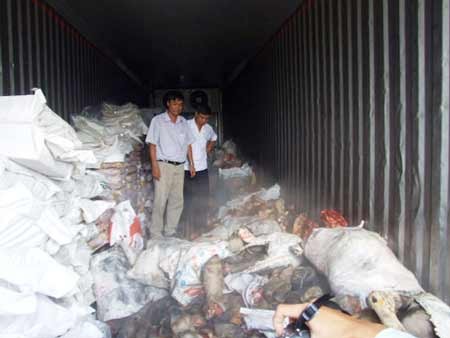 Police detect containers stuffed with eight tonnes of decomposed meat
One of the market management teams discovered a store belonging to Nguyen Van Luom in Bao Binh Commune having four packages of animal feed of brand B.Complex-C and Nutri Meat. Test results showed that both products contained the banned chemical Sabultamol.
Meantime, another team in Trang Bom District seized 568 kilogrammes of animal feed without a brand name at a shop in Tay Hoa Commune. Tests showed it contained 9.9 kilogrammes of Sabultamol.
On the same day, the provincial People's Committee worked with relevant agencies to estimate damages to honest pig-breeding farmers, due to fall in pork prices in markets throughout the country. The loss can be calculated to around VND500 billion.
Relevant agencies have petitioned to withdraw licenses of 20 veterinary medicine stores and close down 35 unsafe slaughterhouses in Trang Bom, Xuan Loc, Vinh Cuu, Cam My and Nhon Trach Districts.
On the same day, police in Thuan An Town in the southern province of Binh Duong raided a cold-storage facility at 21G/3E in Binh Hoa Commune and discovered more than 8 tonnes of decomposed cow and buffalo meat in containers.
It is worth mentioning that of the above volume of rotten and smelly decomposed meat, 2.2 tonnes of the meat was stealthily removed from the incineration site that Dong Nai Province inspectors were burning.
Market management officials in Dong Nai along with veterinary unit inspectors discovered the truck transporting this 2.2 tonnes of decomposed cow and buffalo meat in Bien Hoa City.
The truck's driver, 27-year-old Nguyen Van Hoan, failed to produce any documents for the meat, saying that he was hired to transport it from Hanoi to District 12 in HCMC.
Market inspectors escorted the truck to a yard in Long Binh Ward to destroy the meat. They put all the bags of meat in a large hole in the yard and set fire to the meat using 5 litres of petrol. While the meat was still burning, the inspectors left the yard.
Seeing their absence, driver Hoan and his assistant pulled out all the bags of meat from the   hole, loaded the meat back onto the truck and continued their trip to Binh Duong Province.
Tran Ngoc Son, head of the Bien Hoa veterinary centre, said the inspection team should have invited the local government of Long Binh Commune to witness the destruction to offer proof and also protect the scene. Consequently, four inspectors were asked to write letters acknowledging their wrongdoings.
On April 19, Tran Van Vinh, deputy chairman of the People's Committee of Dong Nai Province considered suspending the four inspectors from work.