The Belgian government will grant the Viet Nam Women's Union 3.2 million euros to implement the third phase of a three-year "Access to coordinated credit and enterprise support services" project to reduce poverty among households in Viet Nam.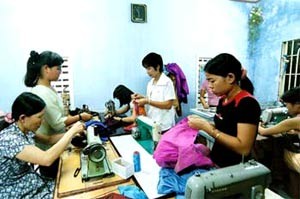 Belgian government's aid giving poor women in Viet Nam easier access to financial services to facilitate their business ventures
An agreement for implementation of the 3rd phase was signed on Wednesday by Vietnamese deputy minister of Planning and Investment Nguyen Bich Dat and Belgian Ambassador to Viet Nam Philippe Jottard in Ha Noi.
The targeted beneficiaries of the initiative are women from poor households in remote and rural communities and women from the country's underprivileged ethnic minorities.

Under the project, they will have access to high quality and diversified financial and business development services provided by coordinated and market-responsive providers following sound sustainable service delivery practices.
The Viet Nam Women's Union and Belgian Technical Co-operative will work together to execute the project, which is in line with the objectives of the Viet Nam-Belgium oriental cooperation program for 2005-2006, the Comprehensive Poverty Reduction and Growth Strategy, the Government's Socio-Economic Development Strategy for 2006-2010 and the microfinance sector's development policy.

In total, the official development assistance (ODA) fund amounts to 9.2 million euros spread over the project's three phases.

Deputy minister Dat said that during the two previous phases of the project, about 110,000 poor women from 17 provinces obtained access to financial services which helped them develop their businesses.

Belgium has given Viet Nam priority with its development assistance in recent years. The fund continues to increase year by year with current contributions reaching 20 million euros annually.