Ben Tre Province, the country's main coconut growing area, has decided to offer assistance to coconut growers whose livelihoods have been affected by the difficulty they face in selling their products.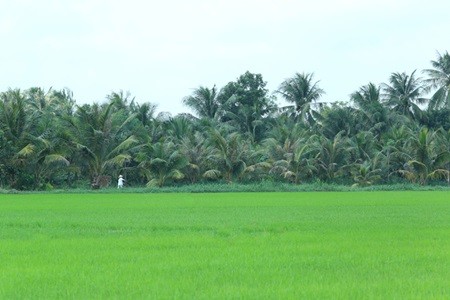 Betrimex buys coconuts from growers at fair prices, helping them feel secure about their livelihood. — VNS File photo
It will provide them with a certain volume of fertilisers per hectare of coconut trees to help them improve productivity and sustain their orchards.
Besides, farmers who plant cacao or breed shrimp in their coconut orchards will be fully subsidised since those are two items the province wants people to farm.
The province encourages and facilitates enterprises to buy coconuts directly from farmers to cut out intermediary costs.
It also encourages them to innovate technologies, improve quality and diversify products, and provides them with financial assistance to promote their coconut-based products abroad.
Ben Tre Import Export Joint Stock Company (Betrimex) ranks among the pioneers in the province in establishing harmonious relations with coconut growers, enabling the latter to continue earning a living from coconut.
The company buys coconuts at a fair price, helping farmers sustain production and feel secure about their livelihood.
Betrimex is also committed to investing in technological innovation to meet the demands of high-end markets, and creating a closed production loop to minimise costs.
Last year, besides making traditional products like desiccated coconut, coconut-shell charcoal, and coconut oil, fibre, net, and others, Betrimex invested US$20 million in setting up the biggest coconut water and coconut milk plant in Viet Nam to supply to export to markets in Asia, Europe, the Americas, and Africa.
They were aimed at creating value addition for coconuts and increasing the value of Viet Nams agricultural produce.
Speaking about the companys Strategic Development Plan for up to 2020, Dang Huynh Uc My, chairwoman of Betrimex, said: "We are focusing on developing products with high added value such as coconut water, coconut milk, and activated carbon.
"In addition to having collection centres in key coconut areas, we are also restructuring the operation model and arranging centralised production."
Coconut plays an important role in Ben Tre's economy and social security since coconut farmers make up nearly 40 per cent of its population.
Around 2,000 processing and trading firms operate in the industry, creating thousands of jobs.
In recent times selling coconuts and coconut-based has faced difficulties following an increase in the area under the nuts as well as processing capacity.
Besides, the prices of dry coconut have fallen sharply because of a decline in global demand and prices.