The slum area in the Mekong Delta province of An Giang has been narrowed since a group of benefactors contributed nearly 1,000 houses to the poor in the last 12 years.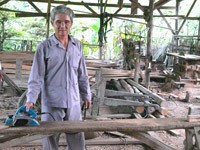 Nguyen Van Ngoi is planning a chunk of timber in his backyard (Photo: tim.vietbao.vn)
Nguyen Van Ngoi, a 61-years-old resident of Nhon My Town, Cho Moi District, An Giang Province, is the founder of the group. The sight of many households living in slum houses and having no money to repair forced Ngoi to find a way to help them, he said.
In 1999, Ngoi and three other men including Nguyen Van Lon, Duong Van Chinh and Phan Van Sanh traveled to Son Kien Town and used their own money to buy gum trees worth VND2 million (US$100), which then enabled them to build 25 houses for local poor households.
"In 2000, with VND9 million, the group traveled to Cho Moi District to meet Ut Quang, a wood trader. Knowing that we bought woods to build houses for the poor, he happily sold a large amount of wood worth more than VND12 million for only VND9 million," Nguyen Van Thung, chairman of Nhon My Town Association of The Elderly, recalled. Thung also said the group built 100 houses in that year.
Ho Thanh Tam, a 68-years-old member of the group said "many people were surprised to know that it cost us only VND3 trillion for building a house. Actually, members of the group build houses together, so we do not have to hire builders. Many building material shops are willing to offer us low prices. Besides, hundreds of men in the town volunteer to fall trees and many ferry drivers are eager to carry the wood for free."
Ngoi's house is often full of people, with the youth carrying woods from ferries and the elderly sawing. At that time, Ngoi's family is responsible for serving foods to builders.
Le Thi Dien, Ngoi's wife, said "I myself had to cook to nearly 30 people in two days in a row. It was tough in the first days, but helping them do charity things makes me feel happy."
Truong Van Thum of My Hoa Ward, who was offered a house, said "My family have eight members. We used to live in a slum, which has many leaks in the ceiling. It was so difficult when the rains came. Thanks to the group of benefactors, now we have a proper place to live."
The contributions of the men with hearts of gold have encouraged people in other provinces to join the charity group.
Nguyen Ba Trac of Ho Chi Minh City sold his land in Cho Moi District for VND50 million ($2,500) and donated the entire amount to the group.