Between 85 and 95 per cent of workers returned to their jobs in industrial parks in HCM City and the southern provinces after Tet (Lunar New Year) thanks to benefits they received before and after the holiday.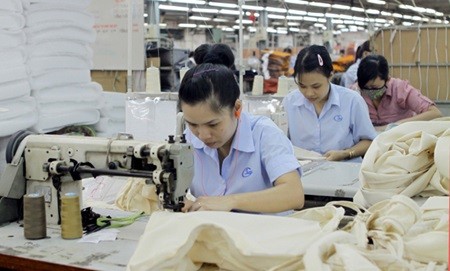 All workers at Binh Thanh Import-Export Production and Trade Joint Stock Company came back to work after the Tet (Lunar New Year) holiday. (Photo: VNA/VNS)
The workers, who in the past often stayed in their hometowns after Tet, received free coach tickets, gifts and reasonable bonuses this year. Workers who did not go home for Tet were treated with special holiday activities.
Tran Cong Khanh, head of the management office for the HCM City Industrial Parks and Export Processing Zones Authority, said that more than 300 enterprises spent more than VND50 billion (USVND49,220 million) for special benefits for workers this year.
Workers received lucky money envelopes on the first day after resuming working, Khanh said, adding that the gifts created "a strong attachment to their employers."
According to Lao Dong (The Labour) Newspaper, workers at FREETREND Industrial Viet Nam Co. Ltd whose hometown was far from HCM City were granted an additional two days off as well as the nine days given by the government for the national holiday.
They were also paid a full salary, said Lieu Quang Vinh, chairman of the company's trade union. Freetrend is an athletic shoe manufacturer in Thu Duc District's Linh Trung Industrial Park No.1.
He said the workers' long holidays did not affect production.
More than 70 per cent of workers at SaiGon Food Joint-Stock Company in Binh Chanh District's Vinh Loc Industrial Park are from the northern central province of Thanh Hoa.
The company arranged return trips on 12 coaches for the workers to return to their hometowns to celebrate Tet.
Nguyen Thi Thao from Thanh Hoa Province's Nong Cong District, who works at the company, said she no longer worried about paying for a round-trip bus ticket to return home for Tet.
Huynh Minh Hoa, chairwoman of the company's trade union, said the free bus trips helped ensure that production remained on schedule.
Vinh Hung Garment Joint-Venture Company in District 12 also scheduled 40 coaches for provincial workers.
In Ha Noi, many companies in Thang Long Industrial Park arranged coaches for their workers.
According to Dong Nai Province's Department of Labour, Invalids and Social Affairs, more than 85 per cent of workers at enterprises in the province returned to work on the first day after Tet.
The Pousung Viet Nam Footwear Company reported that 95 per cent of its 24,300 workers resumed working. The remaining are on either annual or maternity leave.