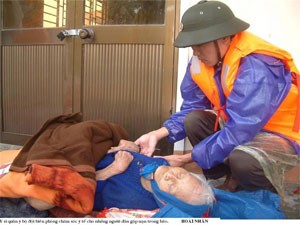 A border soldier helps an old resident move to safer place in Da Nang City yesterday
According to the latest news by 10 pm Sunday, Xangsane, the sixth typhoon to strike Viet Nam, claimed 16 lives, while leaving hundreds more injured and homeless. It was the country's worst natural disaster in recent decades.
In Quang Nam, initial counts show at least 17,000 houses were pulverized, with most having roofs blown off.
Over 30,000 kilometers of sea dykes were ruined and over 10,000 hectares of cropland ripe for harvest were flooded.
Hoi An town was hit the hardest, for nearly 4,000 houses' roofs were blown off. Up to 100 boats and 3 high speed ships were sunk in the ferocious winds causing the loss of up to 9 billion VND. In the nearby Cham isle, four tons of relief food was soaked.
In Hue, officials say that 23 people were wounded; over 10,000 homes were completely destroyed by the strong winds. The rising water has submerged many districts in the province. Phu Vang District was 1 meter in deep water. Big waves and high tides attacked the sea dykes along the Hoa Duan beach with around 5 kilometers being badly damaged.
In Quang Tri by the end of Sunday, nearly 400 houses were swept away by the strong winds. Many roads were razed by the flash floods induced by the hurricane.

According to the brief from Quang Ngai province, two people were injured while fighting against the strong winds. At 4 am of Sunday, gale winds of force 12 crushed nearly 1,000 houses in the region and wrecked six boats moored ashore.
Deputy Prime Minister Nguyen Sinh Hung asked local authorities on Sunday to forbid villagers to go downtown while the strong winds were still at force 6 to 7.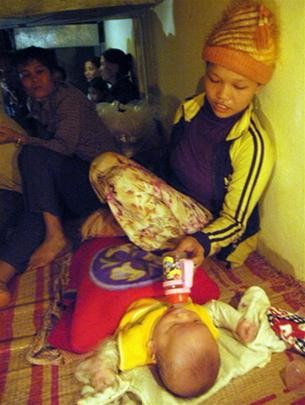 A young woman bottle-feeds her 3-month baby in the temporary shelter in Quang Ngai Province on Sunday
The Ministry of Health on Sunday provided medicines and 200 life jackets for the locals. Forty-four people in the Quang Nam province were hospitalized on Sunday, with many injured by flying tiles and roofing sheets.
By 2 am, 130 typhoon victims were rushed to Da Nang hospital, two of whom died on the way to emergency room.
Some main roads in the central provinces were wrecked by the hurricane, causing a halt to transportation across provinces in the central Viet Nam. Electricity and phone lines throughout much of central Viet Nam were disrupted by the hurricane.
And, some domestic flights services to or across the typhoon-affected region were temporarily closed due to damage, diverting much-needed relief flights. Meanwhile, Viet Nam Railway also did the same, causing many thousands of people to be stranded.