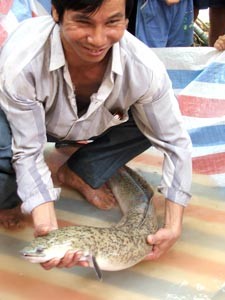 The biggest eel ever found in Viet Nam
Fisherman Nguyen Van Sau in Vinh Long Province caught a 6.6 kilo eel.
The eel, which is 1.3 meters in length and 0.34 meter in width, is the biggest fish he ever seen in the past 20 years.
An 80-year-old man in the village said it was the first time in his life that he saw such a huge eel.
Mr. Sau then sold the fish to a neighbor at the price of VND1.5 million.
This kind of fish lives in brackish water, and is successfully bred in My Xuyen District in the southern province of Soc Trang with an average weight of one kilo each.