Binh Dinh Province is determined to go ahead with the construction of the country's second oil refinery in Nhon Hoi Economic Zone in collaboration with Petroleum Corporation of Thailand.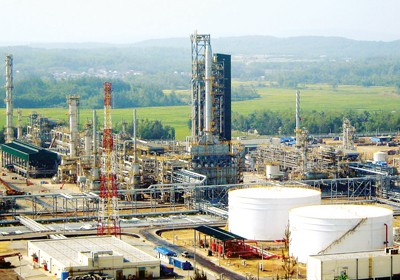 Dung Quat is the only oil refinery in Vietnam at present (Photo: SGGP)
The project has been under intense deliberation for the last three years.
According to Ho Quoc Dung, permanent deputy chairman of the provincial People's Committee, Petroleum Corporation of Thailand chose Binh Dinh Province as location for the oil refinery because Nhon Hoi Economic Zone has good infrastructure and is strategically located in the middle of the country with access to a port, making it more functional logistically to supply oil to countries in Southeast Asia.
Other than the location, the land area is well spread out and not obstructed in any way, with a mountain towards the east and a bay area separating it from dense residential areas. Fresh water is readily available from nearby Con River and Vietnam Electricity has just built a 110KV transformer in the area.
Petroleum Corporation has proposed to build the Oil Refinery over 2,000 hectares at a cost of US$27 billion, with capacity to process 660,000 barrels per day or 30 million tons of crude oil a year. Once established the refinery will employ well above 15,000 people.
 
Sukrit Surabotsopon, the Thai deputy director general of Petroleum Corporation, said that once the Oil Refinery begins functioning it will add substantially to the country's Gross Domestic Product.
At a conference in Da Nang City on March 22, the People's Committee of Binh Dinh Province and representatives of Petroleum Corporation of Thailand signed a Memorandum of Understanding to set up Nhon Hoi Oil Refinery.
As of now the feasibility report of the project has been completed and a viability report will be presented by 2015, with construction scheduled to begin by 2016 and the plant fully operational by 2019.
The Nhoi Hoi Oil Refinery project has met with strong opposition from Vietnam Oil and Gas Company (PVN), who hold present monopoly of petroleum products in Vietnam.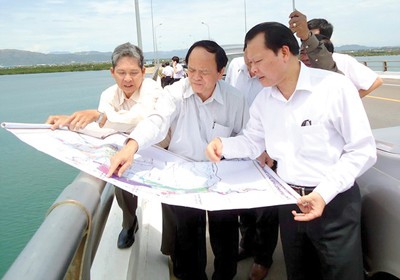 Senior government officials survey Nhon Hoi Economic Zone in Binh Dinh Province (Photo: SGGP)
Vietnam has only the one Dung Quat Oil Refinery in Quang Ngai Province, bordering Binh Dinh Province, with PVN being sole investor.
The annual capacity of Dung Quat Oil Refinery is 6.5 million tons of crude oil, which can meet 30 percent of domestic consumption.
However, whenever the plant has to temporarily halt operations for any reason, importers increase petrol prices abruptly, even if closure is announced months in advance.
 
Earlier this year, Vu Huy Hoang, Minister of Industry and Trade, chaired a meeting with representatives of Binh Dinh Province and Petroleum Corporation to study the projects feasibility report in Hanoi. 
The Ministry has now submitted the project report to the Prime Minister and asked Binh Dinh Province to clarify various technical details to send to the Government for consideration.