The Veterinary Department in Binh Duong Province along with other related departments conducted inspections of cold storages in the province, to check on expiry dates of meat items.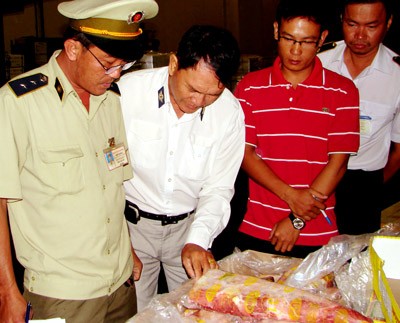 An inspection team checks meat items at the Swire Cold Storage in Binh Duong Province (Photo:SGGP)
An inspection team checked the Swire Cold Storage in Song Than 1 Industrial Zone and found 800 kilograms of chicken legs that had expiry date for just two more days. The provincial authorities have thus asked the owner to deal with the consignment within the stipulated period.
The team also detected some goods whose labels did not comply with regulations. The owner of the goods will have to explain this issue, said an inspector.
According to Ta Trong Khang, deputy head of the Veterinary Department, the province has currently 10 cold storages that store frozen meat.
He said that these inspections were being done to control bad meat from reaching the consumer in the market.
Earlier, the provincial authorities had caught a man with 9.7 tonnes of decomposed cattle meat and organs. Police in Thuan An town have asked the man named Nguyen Hiep Huong, to come to the Thuan An Police Station for questioning, as he had not been able to produce any documents related to the goods.