The central province of Binh Thuan proposed the Government to soon solve environmental pollution at Vinh Tan thermal power complex in the province.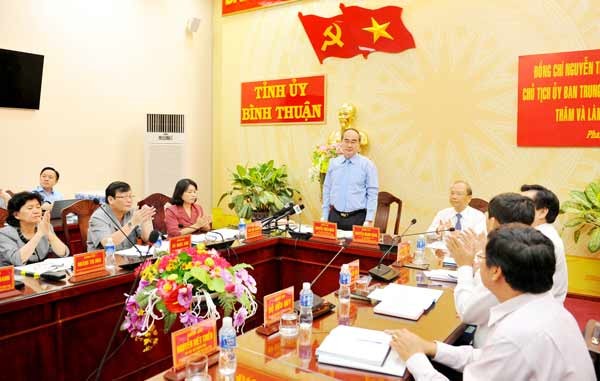 Chairman of the Vietnam Fatherland Front Nguyen Thien Nhan stating at a meeting with leaders of Binh Thuan province on October 7 (Photo: SGGP)
The proposal was submitted at a meeting with a central mission led by chairman of the Vietnam Fatherland Front Central Committee Nguyen Thien Nhan yesterday.
According to secretary of the provincial Party Committee Nguyen Manh Hung, Vinh Tan electricity center comprises four thermal power plants and a seaport. The Ministry of Natural Resources and Environment has approved the project's environmental impact report.
Plant Vinh Tan 2 has come into operation while the three other plants are under construction now.
The construction and operation of the plants has polluted the environment. Specifically, plant Vinh Tan 2 has caused cinders and ash blowing into nearby residential areas.
Especially, coastal landslide has occurred near the central area and affected seafood farming for recent years. The situation was seen worst last year.
The provincial Party Committee and People's Committee hence proposed the Government and relevant agencies to comprehensively review environmental impact of Vinh Tan electricity center and have thrifty measures to reduce and prevent pollution.
According to associate professor Vo Sy Tuan, head of the Institute of Oceanography, it is necessary to continue making researches to confirm whether Vinh Tan thermal power plants badly impact sea environment.
Environmental pollution has in fact been worse than reports and rendered in social differentiation, for instance it has resulted in conflict between businesses and citizens who say they chose fish not steel after Taiwanese steel firm Formosa caused massive fish deaths in the north central region in April.
The conflict has been due to many tricky businesses and a shortage of information transparence for citizens, causing them to distrust in the Government, he said.
Before any project is implemented, it should be publicized for citizens to be aware of and authorized agencies and investors should inform them of what they would receive and lose from the project to reach their consensus, he said.