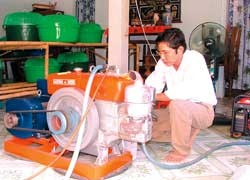 Engineer Long runs his biogas generator modified from diesel engines.
One of the latest achievements of engineer Bui Hoang Lang is the conversion of diesel engines into generators powered by biogas.
According to Mr. Lang, biogas is an excellent alternative to fossil fuels. It is much cheaper, since the raw materials for biogas production are derived from animal (especially pig) waste. Biogas power generators made from converted diesel generators are particularly cost-effective, especially if they have efficient cooling systems allowing them to run 24 hours a day. The potential power output of a biogas generator depends on the amount of animal waste input - more pigs means more power.
To demonstrate how the generators work, Mr. Lang connected a biogas container to the fuel tank of a modified 5kW diesel generator with a plastic tube and started the engine. Unlike diesel generators, which produce a lot of exhaust fumes, the biogas generator operated smoothly with no perceivable fumes. According to Mr. Lang, a generator could be used to power 100 neon lights. Continuous running of a generator would require the waste of 30 to 40 pigs.
Mr. Lang has converted diesel engines into biogas generators with outputs ranging from 1 kW to 20 kW. High output generators can produce 220 volts (or 380 volts in three-phase applications).
While biogas generators modified from diesel engines may not seem all that important to a lot of people, they are very useful to Vietnamese farmers as they can help them save up to 30% on their energy bills.
Any reader interested in this environment-friendly technology can contact the young engineer at 3.05 B My Thuan Apartment Building, An Duong Vuong Street, Ward 16, District 8, Ho Chi Minh City. Tel. No. 08.2606424, Cell phone No. 0903315159.