Relatives of the nine Vietnamese workers who died in a road accident on December 19, when the bus carrying them fell into a stream in Laos, have taken the victims' bodies back to Vietnam.
The repatriation of the bodies was carried out yesterday, December 21, with the help of the Vietnamese Consulate General in Champasak Province in Laos.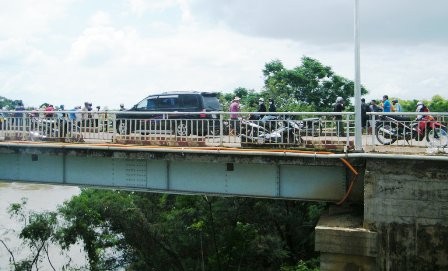 Srepok Bridge--where the bus accident occurred (Photo: Dantri.com)
Six other Vietnamese workers were injured in the same accident on Wednesday. The nine dead victims are Tran Ba Anh, Nguyen Tran Trung, Nguyen Tran Dat, Luong Van Hung, Luong Van Thanh, Nguyen Quang Trung, Tran Van Que, Le Dinh Dong and Nguyen Xuan Tue.
All the victims were natives of Van Dien and Nam Thanh Communes in Nam Dan District of Nghe An Province.
Three Laotians also died when the bus fell into a stream in Champasak Province on December 19.
All the Vietnamese victims were farmers and construction workers who had been employed by contractor Tran Ba Anh to work in Laos.
Yesterday, Nghe An Province authorities visited the families of the dead victims.
Thai Van Nong, chairman of the People's Committee of Nam Dan District told the media that the authorities have given VND5 million (US$240) to each family of the dead victims and VND2 million to each family of the injured.