A fragmentation bomb from the Vietnam War exploded, killing three boys and seriously injuring another in the central Vietnamese highlands province of Kon Tum on Dec 9.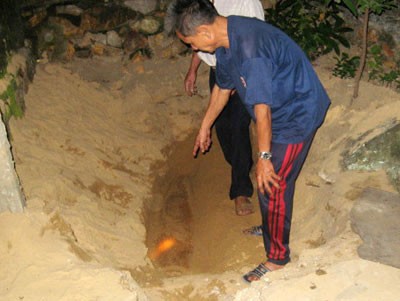 The bomb found in October in Quang Binh. It was later successfully defused.
The victims - A Caoh, 14 years old, A H'Ly, 17, A Thê, 17 and A Gang, 16, all from Kon Trang Kep village - discovered the bomb Sunday in a rubber plantation in Dac Ha District.
It exploded when they played with it, local police said.
Police also found another bomb near the explosion site and the military has destroyed it.
Last month, a scrap collector was sawing a 105mm artillery shell for explosives when it exploded, killing him and six others in southern Binh Phuoc province.
It's been 32 years since the Viet Nam War ended but countless unexploded ordnance (UXO) remain. In all, some 40,000 Vietnamese people have been killed by bombs since the war ended.
In October, experts managed to defuse a 1.6m long bomb found a week earlier in a rural village in central Quang Binh province. Luckily, no one was hurt this time.