Border Patrol in the north central province of Ha Tinh on April 20 captured a Mongolian vessel transporting a large volume of illicit diesel four sea miles off the shore of Thanh Hoa Province.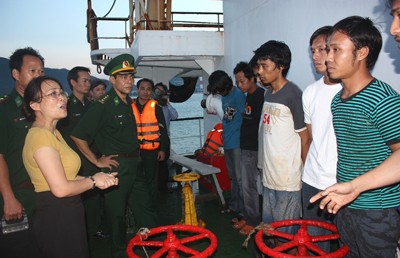 Burmese sailors (R) were caught smuggling diesel into Vietnam (Photo: SGGP)
On sighting a suspicious vessel, the Border Patrol sent a signal asking for the vessel to stop, but Myat Htay, the 49-year-old Burmese captain, ignored the signal and attempted to run away.
After a several hour chase, the Border Patrol finally caught up with the speeding vessel and impounded the boat, captain and 13 Burmese crew members on board. 
According to the captured crew, the vessel departed from Taiwan (China) with illegal diesel cargo to smuggle into Vietnam.
Before being captured, they had already sold some of the diesel to traders in the north central province of Thanh Hoa.
Border Patrol towed the vessel with all crew to Vung Ang Port in Ky Anh District in Ha Tinh Province and is holding the crew under temporary custody for further investigation.