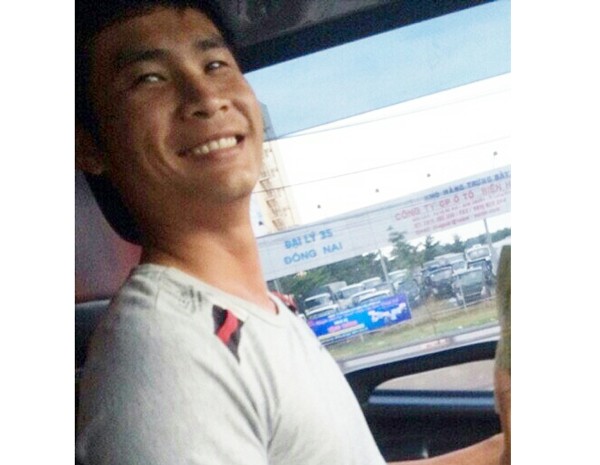 Driver Phan Van Bac (Photo: SGGP)
Deputy Head of the National Traffic Safety Committee Khuat Viet Hung today said that the committee will present the Golden Steering Wheel award 2016 to truck driver Phan Van Bac who bravely saved a passenger bus with brake failure on Bao Loc Pass in the Central Highlands province of Lam Dong on Tuesday.
The driver rescued more than 30 people including the bus driver on the brake failure bus .
Mr. Hung said that Bac is the first driver who was given the honorable award by the committee.
The Golden Steering Wheel award aims to good deed in traffic safety order or rescuing traffic victims or assist passengers, he said.
Along with the certificate of merit brave and kind drivers will be rewarded with a cup and a cash prize, he added.
Transport Minister Truong Quang Nghia cum deputy head of the National Traffic Safety Committee today sent a letter to compliment the driver.
Earlier, on September 7, head of the Department of Traffic Safety in Lam Dong Province Nguyen Huu Thang said that the department has proposed People's Committee to award a certificate of merit to the 30 year old driver in Da Hoai District in Lam Dong Province for his brave deed.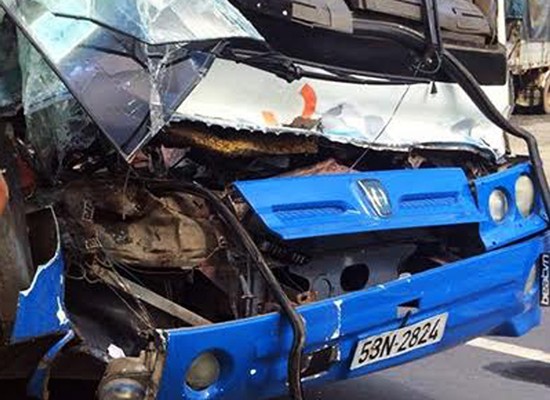 The front of the passenger bus crumple after the collision (Photo: SGGP)
Before, on September 6, a passenger bus lost control of its brake in the Bao Loc Mountain Pass in Lam Dong Province; accordingly, the bus driver was striving to drive through dangerous curves.
The truck driver was driving a truck in the front of the passenger bus at that time. Realizing the counterpart and many passengers in the bus were facing danger, Bac soon slowed down and gave signal to the passenger bus driver to hit his truck in order to reduce the speed of the bus.
Yet, because the passenger bus was on high speed, the bus stopped for a distance of 400m after hitting the back of the truck. The front section of the bus and the back of the truck had crumpled in the collision. Fortunately, 40 people were safe after the incident.
Many passengers and residents in the area captured the scene and posted the video clip on a social network on the same day. The video clip received several hundred thousand likes and compliments.