Yesterday in Ha Noi, the Vietnamese Ministry of Foreign Affairs awarded the Friendship Order to Alcides Gastao Rostan Prates, Brazil's Ambassador, who just finished his five-year term of office in Viet Nam.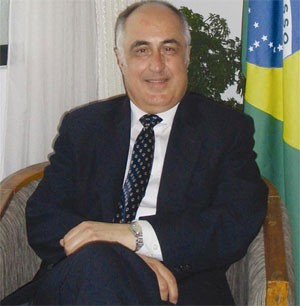 Mr. Alcides Gastao Rostan Prates
Vietnamese Deputy Minster of Foreign Affairs Pham Binh Minh lauded the Ambassador's contributions to the sustainable development of friendship and cooperation between Viet Nam and Brazil.
The former ambassador extended his heart-felt thanks for the Vietnamese government's award and pledged to continue support for the strengthening of bilateral ties.
In related news, in Ho Chi Minh City, the Vietnam Union of Friendship Organization and the Vietnam – Korea Friendship Association jointly organized a ceremony to grant the Ho Chi Minh City Insignia to the Korean Professor Kim Ki Tae.
Professor Kim has made significant contributions to both countries' education systems by developing a Vietnamese Faculty in universities in Korea and vice versa.
Since 1970, Prof. Kim has written and published many reference books in Vietnamese for Koreans who are Vietnamese learners and at the same time mobilized the Korean government to grant scholarships to Vietnamese postgraduates.