Many farmers are making a fortune by breeding wildlife for their meat. Not only can they escape poverty, farmers also have a hand in protecting the ecological environment and help it develop in a sustainable way.

Making money from breeding boars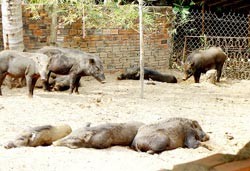 Boars at Nguyen Van Ky's farm

Nguyen Van Ky,a farmer living in Long Thanh My Ward, District 9, HCM City, started his breeding business in 2005 after buying a four kilo piglet, as a breeding animal, from an ethnic minority in Dong Nai Province.

To ensure the meat of the animal would be the same as that of boars living in the natural environment, Khanh fed the piglet with a mixture of bran and chopped water-hyacinth and let it run freely in his garden.

It took Ky three years to successfully produce the first litter of boars.

Inspired by his initial success, Ky decided to borrow money from the Hunger Eradication and Poverty Alleviation Fund to develop his sounder of boars.

Ky said, "There has been an increased demand for this kind of meat. I've just received an order from the National Institute of Animal Husbandry for 1,000 kilos of breeding boars, but I could only supply half of the order."

A kilo of boar meat can sell for VND290,000 ($16.5), about 4.5 times more than a kilo of pork. By selling 500 kilos of boar meat, Ky can earn more than VND25 million.

Having 400 boars on his farm, Ky can now not only escape poverty, but is also making his fortune.

Ky said that there are now some 30 families in the district earning their living by breeding boars, 20 of which have developed their singulars to 300 boars.

Ky said that like other breeders in the region, he hopes that local farmers can export their produce to foreign countries some day.

Breeding salamanders: Lucrative business

Like Ky, Vu Dinh Hung, another farmer in District 9, is becoming better off by breeding salamanders.

Hung gets up early in morning. His routine is to prepare the daily meal for the lizards by spreading canvas sheets on the ground and pouring piles of rotten fruit, vegetables and bulbs onto them. After a long night of sleeping, the hungry lizards will crawl out of their sandy houses to the canvas sheets to enjoy their hearty meal.

Hung decided to breed the lizard in 1997 when he visited his friend in Phan Thiet City, Binh Thuan Province. He recalled, "My friend treated me to some salamander meat. It was so delicious."

Hung said, "I told my friend that if I could breed this kind of lizard, my family would escape poverty as the meat would sooner or later become a favorite dish of many gourmets in HCM City."

But how to breed salamanders was a big problem for Hung because this kind of lizard just lives on dunes along the coast of the Phan Thiet Sea.

On the trip back to HCM City, Hung brought home some salamanders. He kept them in the sand in his garden and spent several days observing them to discover their habits, behaviors and way of living.

In April, Hung decided to start his breeding business by borrowing money from the bank and going to back to Binh Thuan to get 100 kilos of breeding salamanders and a ton of sand for them to live in. Hung's business was a big success six months later, salamanders became five times as big when bred.

At present, a kilo of salamander meet is sold at VND 250,000. By selling some 20 kilos of salamander meat a day to restaurants, Hung can earn an average daily income of VND5 million.

"This is a lucrative business. I don't have to spend much money on the feed for the lizards because they only eat rotten fruit and vegetables."

As a member of District 9 Farmers Association, Hung has provided breeding salamanders and taught breeding techniques to families of six local poor farmers. Thanks to Hung's support, these families have climbed out of poverty and begun a more prosperous life.

Breeding snakes: Humble business reaps profits

In recent years, local people in Ben Tre Province have become crazy over dishes like curry and porridge using varanus acanthinurus meat, a kind of small snake, as the main ingredient.

The farmer who introduced these dishes to the market is Le Hoang Dung, who has escaped poverty by breeding snakes.

Dung said, "Any farmer can do this business, as it requires very little funds. Breeding snakes can be caught in the natural environment. All you have to do is to build a brick enclosure to put the snakes in and dozens of meters of cheese-clothe to cover the enclosure. "

Dung also put rotten leaves and branches of trees in to the enclosure to create a nature-like environment for the snakes to stimulate reproduction.

A snake is sold at VND 2,000 in Ben Tre. Thanks to his humble business, Dung can escape poverty without borrowing money from anyone else.