The British Royal Navy ship HMS Daring on December 18 arrived at Tien Sa port in the central city of Da Nang , starting its four-day visit to Vietnam.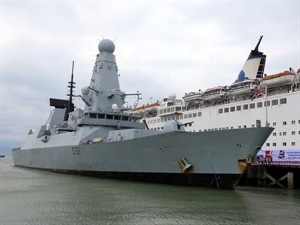 British Royal Navy ship HMS Daring. Photo: VNA
As part of activities to mark the 40th anniversary of the Vietnam-UK diplomatic relations, the visit is a demonstration of the strength of bilateral cooperative ties, especially in national defence.
British Ambassador to Vietnam Antony Stokes highlighted the visit, saying that it brings together all elements of bilateral broad and deep relationship, including enhanced mutual prosperity, stronger defence and security engagement.
"I hope it helps us to build on these themes and to strengthen our relationship in the years to come," he added.
The crew is scheduled to join in the annual bilateral Defence Working Group meeting which will focus on exploring areas for greater UK and Vietnamese cooperation, studying areas where UK businesses can be involved in, exchanging views on strategic regional issues, and strengthening their work together through extensive training exchanges.
Sailors and officers will also engage in a range of activities such as a volleyball game against the Vietnamese Navy, visits to orphanages, and a music performance staged by the Royal Marines Band.
They are also expected to join in a closing ceremony of an English-language course on peacekeeping held by the British Council for six Vietnamese air forces and marine police officers.
The visit will run until December 21.-VNA