Several public-spirited companies have been donating building materials and otherwise helping the victims of Typhoon Durian to rebuild their shattered homes and get their lives back in order.
Employees of the FICO-Tay Ninh Cement Joint Stock Company (Tafico) recently traveled to the hardest-hit province, Ba Ria-Vung Tau, to personally hand over 300 tons of cement to the owners of damaged houses.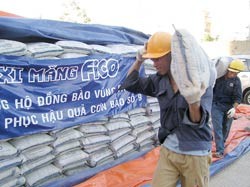 Employees of Tafico hand over 300 tons of cement to the owners of damaged houses in Ba Ria-Vung Tau.
Mr. Vo Thanh Ky, vice chairman of the Ba Ria-Vung Tau People's Committee, lauded Tafico's good deed and said it was making a great difference to the people who had lost a roof over their heads, especially given the much higher price of building materials after the typhoon because of the strong demand.
Tafico has extended its generosity to more than just one province battered by the south's worst storm in nine years.
"Besides the assistance given to victims in Ba Ria-Vung Tau, Tafico gave 150 tons of cement to people in Ben Tre, Tien Giang and Tra Vinh provinces," the company's general director, Tran Phuong Tung, said.
Mr. Vu Trong Tuan, who heads the Construction Ministry' Southern Representative Office, pointed out that quite a few enterprises in the sector had responded to the recent appeal by Minister of Construction Nguyen Hong Quan to help typhoon victims.
Among the other benefactors are the DIC Binh Duong Cement Joint Stock Company, which provided some 20 tons of cement for reconstruction in Ba Ria-Vung Tau, and the Vietnam National Cement Corporation, which donated 50,000 bags of mortar and over 100,000 bricks to residents of Ba Ria-Vung Tau, Ben Tre, Binh Thuan and Ho Chi Minh City's Can Gio District.
And it's not just building materials either. Several Vietnamese electronics companies have been repairing broken television sets, video players and such without charging a penny.