Businesses have begun purchasing one million tons of winter spring rice in the Mekong Delta on March 1 when the Prime Minister's rice stockpiling decision took effect.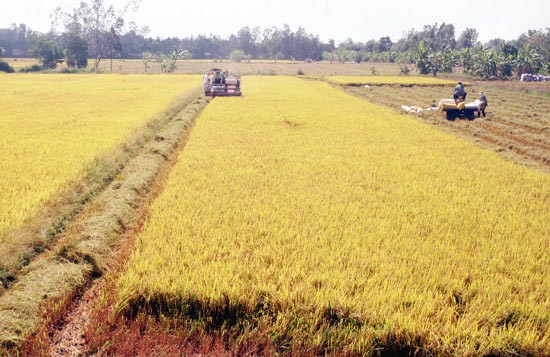 Hau Giang farmers reap winter spring rice (Photo: SGGP)
The Government has assisted businesses with 100 percent of bank loan interest rate in four months to buy rice under the program from March 1 until April 15.

Rice prices were in down trend near the lunar New Year Festival but have a bit increased recently owning to the program.

Specifically, a kilogram of fresh rice fetches VND4,200-4,600 a kilogram, up VND200-300 over it before Tet. Traders have boosted purchase in Can Tho, Hau Giang, Dong Thap, and Vinh Long for the last few days.

Farmer Ngo Van Kha from Vi Thanh District, Hau Giang province said that the new prices are acceptable.

The busiest purchase is along the 40 kilometer road linking Can Tho and Vi Thanh, where nearly 100 combined harvesters have continuously operated in fields.

Leaders from Can Tho, Dong Thap, An Giang, Tien Giang, Long An and Can Tho say that this year the rice stockpiling program has been launched timely as farmers are entering peak harvest season.

Vietnam Food Association (VFA) has allocated rice volume for businesses to buy in each province. The largest purchase will be 250,000 tons in An Giang, followed by Can Tho with 175,000 tons and Bac Lieu with 8,000 tons. The lowest volume is in Ca Mau with 2,400 tons.

2015 is the sixth year in a row VFA carries out the rice stockpiling program for the yearly largest winter spring crop in the Mekong Delta.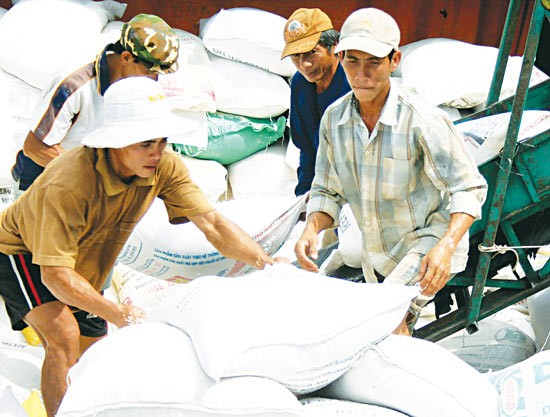 Rice bags are transported to warehouse for stockpiling (Photo: SGGP)
The program is a Government's intervention measure in the rice market to prevent a price drop during peak harvest time and ensure farmers' profit, Deputy Minister of Agriculture and Rural Development Vu Van Tam said at a meeting on the program's implementation in the delta yesterday.
In addition to the program, the Southern Food Corporation has won a bid to export 300,000 tons of rice to the Philippines, creating a better tendency in the rice market, he added.

However, Deputy Chairman of VFA Huynh The Nang said that tendency would not prolong because the Mekong Delta would have up to five million tons of commercial rice by the second quarter. The number includes iventory rice from last year and newly harvested rice.