Ca Mau Cap National Park is set to receive world biosphere reserve status, according to an official of the UNESCO Viet Nam National Committee.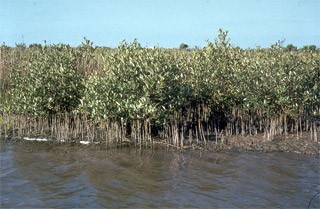 A corner of Ca Mau Cap National Park with Mangrove and Avicennia
The news was announced after UNESCO Viet Nam went exploring on a fact-finding mission to the Ca Mau Cap National Park and U Minh Ha Forest.

UNESCO Viet Nam Committee officials also worked with the southern-most province of Ca Mau's People's Committee in order to file all the necessary paper work needed to establish Ca Mau Cap National Park as a world biosphere reserve.

This new title will ensure that the site will receive conservation, sustainable development and logistic support for scientific research and education.

The 41,862-hectare National Park was set up in 2002 by the government. The vegetation in this coastal park is predominantly Mangrove and Avicennia with many species of fish and marine life and more than 100 rare animal species living in the park.
The area's extensive mudflats are important for many migratory bird species and the land in the Bai Boi area has become the country's biggest and most precious area of salt-marsh.