Rise in sea levels have caused several landslides along river banks and coastal areas in the southern most tip province of Ca Mau, resulting in substantial damage to infrastructure, buildings and agricultural production.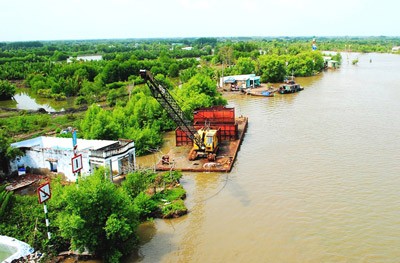 Rise in sea levels is a constant threat to the coast line of Ca Mau Province (Photo: SGGP)
Observation of high tide levels seem to be increasing year after year, creating more threat to the land mass in Ca Mau Province, which continues to lose hectares of land to the sea each year.
High tide levels of 1.5 metres measured in 2007 caused damage to nearly 4,900 hectares of valuable farming area. In 2008, high tide levels rose to 1.6 metres destroying 10,600 hectares and in 2011 tide levels rose even further to 2.1 metres and devastated 19,700 hectares.
To Quoc Nam, deputy director of the provincial Department of Agriculture and Rural Development said that with the current steady rise of sea levels, about 90,000 hectares of farm land will be flooded in the province, especially in Nam Can and Ngoc Hien Districts.
Before 2000, the west area of the province was regularly extended with deposit of silt from the sea. However, in recent years, landslides have replaced silt deposits.
 
At present, tens of kilometres of the Ca Mau coast line has suffered landslides. Four areas in particular covering 16 km are in severe danger at present.
Last year, Ca Mau Province invested over VND200 billion on 16 dyke projects. However, the fund was insufficient compared to what is actually required, to the tune of VND5 trillion, which the province needs for building and upgrading he entire dyke system.
While awaiting an overall solution from the Government, residents in the province are trying to consolidate the dykes and heighten their house foundations to cope with the rising sea level.