A regular Cabinet meeting was held in Hanoi over a period of two days, March 31 and April 1.
Maintaining economic growth at an appropriate rate would contribute to stabilising the economy and ensuring social welfare, Cabinet members said at their monthly meeting to review the country's first-quarter performance.
They also gave their opinions on the bill to combat terrorism and also amended several articles in the Law on Science and Technology and the Law on Employment.
They heard and discussed supplementary reports on State budget spending and income in 2011, State budget work in 2012 and State budget balance in 2010.
Inflation dominated the discussion at the two-day Government meeting in Hanoi over the weekend and Cabinet Minister Vu Duc Dam told the media that there were signs of an economic recovery.
However he informed that the GDP growth rate in the first quarter was merely 4 per cent, the lowest in several years. Over 2,200 businesses declared bankruptcy and 9,700 businesses temporarily ceased to operate and have not pay taxes. The government is finding out steps to remove the obstacles faced by businesses, such as high bank interest rates, impacts of global economic recession….
At the Government meeting, Prime Minister Nguyen Tan Dung asked the State Bank of Vietnam to move forward with drastic measures to keep inflation at a single-digit figure and to maintain a reasonable 6 per cent economic growth rate.
Concluding the meeting, PM Dung said positive signals in the country's socio-economic development showed that "we are on the right track".
He cited a gradual decline in the consumer price index, a 23.6 per cent rise in export value and the creation of 341,000 new jobs, before concluding "the target of curbing the inflation rate to a single digit is within reach."
However, the Government leader pointed out challenges and difficulties, noting a slowdown in gross domestic product (GDP) and high input costs that had badly affected the processing and manufacturing industries.
He requested that the SBV quickly clear bad debts, ensure liquidity, stabilise interest rates and deal with poorly performing banks.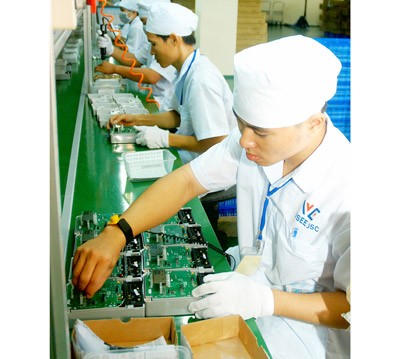 Manufaturing electric products at Vinasino Company(Photo:SGGP)
At the meeting, the PM also requested the ministries and agencies to practice thrift, fight waste and raise efficiency in investment, production and business.
In addition, they were expected to review tax and fee policies and implement social welfare policies.
Solutions to traffic congestion and accidents should be implemented simultaneously and harmoniously, and information addressing these issues should be disseminated.
At the meeting, the Cabinet members discussed the master plan on economic restructuring, a draft resolution to amend the National Assembly's Resolution No 49/2010/QH12 on national key projects and programme, and the Vietnam Science-Technology Development Strategy.