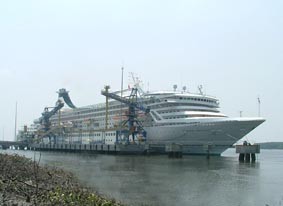 The Royal Princess berths at Cai Mep Port
Saigon Port and the Danish shipping line Maersk A/S have got the prime minister's permission to expand and upgrade Cai Mep Port in Vung Tau to international class. The upgrade has a budget of US$512 million.

At the moment, Cai Mep is geared towards servicing the Interflour Vietnam Company.
Recently, the Royal Princess with 1,181 Europeans and Americans on board had to berth at Cai Mep as nearby Phu My Port, which can easily handle huge cruise liners, was full to bursting.
Saigon Port has other big construction projects in the pipeline, both in Ba Ria-Vung Tau on the mid-south coast and both involving foreign partners.
One is a US $160 million container port, to be called Saigon-SSA, in partnership with US-based SSA Marine; the other is the US $165 million Thi Vai Port with Singapore's PSA.