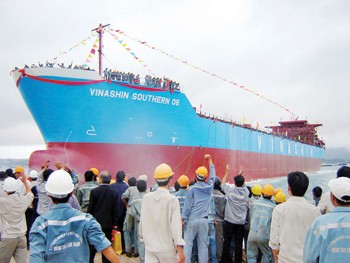 Cam Ranh Shipyard launches the Vinashin Southern 06 in Cam Ranh on Dec 25, 2008

The state-owned Cam Ranh Shipyard has built its first vessel, the 20,000-ton Vinashin Southern 06, and launched it December 24.

The US$20-million vessel, built for a Lao shipping line using advanced technology, has six cargo holds and was designed by the Vietnam Shipbuilding Science & Technology Institute.
The Lao company will take delivery of the vessel in Quang Tri Province. Laos is a landlocked country that uses the Quang Tri coast as a transshipment point.