Cambodian King Norodom Sihamoni arrived in Ha Noi on March 16, beginning his first visit to Viet Nam to boost multi-faceted cooperation between the two neighboring countries.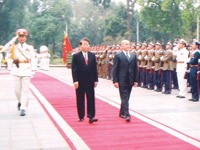 President Tran Duc Luong (L) and King Sihamoni in Ha Noi
After the red-carpet welcome in the afternoon, Vietnamese President Tran Duc Luong held talks with the Cambodian King. President Luong said he highly valued the King's first visit to Viet Nam, describing it as a manifestation and a new milestone of the two neighboring countries' bilateral relations.
King Sihamoni said Viet Nam has been a long-standing good friend of the Cambodian people. He expressed thanks to the Vietnamese Government and people for their wholehearted, valuable assistance to the Cambodian people in the past and at present.
Both President Luong and King Sihamoni reiterated their determination to further reinforce the bilateral ties in this century in line with the motto "good neighborliness, traditional friendship, comprehensive cooperation, long lasting sustainability".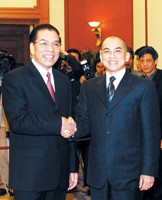 Party General Secretary Nong Duc Manh (L) greets King Sihamoni
The King also met with Viet Nam's Party General Secretary Nong Duc Manh the same day. He appreciated achievements the Vietnamese people have made after 20 years of reforms. The King stressed that Cambodia always supports Viet Nam in development. He said the two countries, with established relations, would cooperate for mutual benefit in solving problems with peaceful measures.    
The Party leader and the King agreed that Viet Nam and Cambodia would continue holding meetings of senior officials and intensify relations among agencies and provinces. The two nations will cooperate with each other and with other partners in ASEAN, the Asia-Europe Meeting series, Viet Nam-Laos-Cambodia relations and Viet Nam-Laos-Cambodia-Myanmar relations.
The King said Cambodia supports Viet Nam to join the World Trade Organization while Party leader Manh said Viet Nam backs Cambodia's intention to join the Asia-Pacific Economic Cooperation (APEC) Forum.
The King also met with Vietnamese Prime Minister Phan Van Khai the same day. The two sides affirmed that they would continue cooperation in trade, transport and communications, education and training, power, culture and information, national defense, tourism, health care, agriculture, etc as the two nations had earlier agreed so that bilateral trade may reach US$1 billion.
The two sides also agreed to boost trade activities along the border by building border markets and upgrading roads in border provinces. The two sides will keep strengthening the provinces' cooperation to turn the border areas into developed regions with peace and stability.
In the evening, Party General Secretary Nong Duc Manh and President Tran Duc Luong hosted a banquet in honor of the visiting Cambodian guests.