Since early 2007, the campaign "Young people study and work in accordance with Uncle Ho's teachings" has attracted over seven million young people. Some 11,000 young adults, teens and children have been recognized and granted the title "Excellent citizens who follow Uncle Ho's shinning example in studying and working."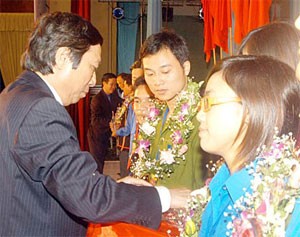 Ho Quoc Viet presents certificates of merit to young people who recieved the title
On May 17, HCMC Communist Youth Union organized an event to assess the preliminary results of the campaign in Hanoi. Participating in the event were 500 young people from cities and provinces throughout the country.

Addressing the meeting, Ho Duc Viet, politburo member, secretary member of the Party's Central Committee and Head of the Party Central Organization Board appreciated the union's creativeness in launching the campaign.

He said that the campaign has created an excellent atmosphere. Many young people, teens and children who set shinning examples had been found during the campaign. This has been seen as an important factor contributing to the general success of the campaign.

Launched in early 2007, after two and a half years, the campaign has attracted the participation of over 7 million people, who collected more than 600,000 books about Uncle Ho and distributed to 8,000 public bookcases in remote areas nationwide.

Also during the campaign, young people have successfully undertaken some 10,000 social works aimed at improving the living standards of the community. Such works totaled some hundreds of billions of dong.

On behalf of the Secretariat of the Party Central Committee, Mr. Viet welcomed the success of the campaign and lauded the achievements made by members of the union and excellent citizens throughout the country.

Mr. Viet suggested that the union to expand and improve upon the campaign.

This year's theme is "Raising young men's awareness of responsibility in serving the country and people." It aims to encourage young people to study harder to acquire more knowledge and skills, as well as improve their behavior so that they can become useful members of society.

The campaign also encourages young people to take part in voluntary programs which contribute to the community.