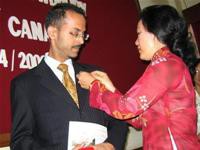 Ms Dinh Thi Bach Mai pins the badge on the jacket of Mr Sanjeev Chowdhury

Ms Dinh Thi Bach Mai, deputy head of the Ho Chi Minh City Award and Emulation Board, presented the badge of Ho Chi Minh City to Canadian Consul General Mr. Sanjeev Chowdhury at a ceremony in Ho Chi Minh City on April 10, 2006.

Mr Sanjeev Chowdhury started his term in September 2003. He not only worked as a diplomat, but also took part in charitable and social cultural activities.
He mobilized Canadian businessmen to organize concert and auction sales to raise more than VND 300 million for Agent Orange Victims in Thien Phuoc center.
He also contributed to the organization of the Terry Fox Charity Walk to help Ho Chi Minh City Tumor Hospital with more than VND 600 million.
City's authorities highly appreciated Mr. Sanjeev Chowdhury's contributions to developing the multifaceted relations between Canada and Vietnam in general and HCM City in particular.