Consul General of Canada in Ho Chi Minh City Sanjeev Chowdhury was very busy at his office with a bundle of around 500 letters. He was writing to his Vietnamese friends before leaving for Canada at the end of his term. And he did not forget to write a farewell on each of the typewritten letters.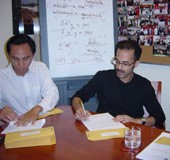 Mr. Chowdhury writes farewell letters to his Vietnamese friends

* Reporter: Your term in Ho Chi Minh City will soon come to an end; could you please tell us exactly when and how your work is on these last days?

* Mr. Sanjeev Chowdhury: I am leaving Viet Nam on Friday, August 4. My successor, Mr. Bill Johnston, will come here two days after that. I have been very busy these days, but everything is okay.

* What have you done favorably and what do you regret for not having done?

* We've done so much over the past three years to boost Canada's position such as organizing political, economic, cultural and charity activities. What I like most is the contest "Acting One-Day Consul General" in 2005. I like Nguyen Minh Vu, the winner of that contest. What I've not done is a similar contest for female students this year. I had to return to Canada in June so I had no time to prepare for the planned contest. That's what I regret most. My successor will perhaps be able to realize it. So let's wait and see.

* Are you satisfied with your term in Viet Nam? What will you remember most during you term after leaving here?

* I'm very satisfied. Many people have been aware of the presence of Canada in Viet Nam in various fields. Besides, I was awarded with Canada's highest honor for diplomatic officials. The Vietnamese government conferred three medals on me as recognition of what I've done. It is such a great thing being appreciated by both states.
My good memories? Friendship, especially with Vietnamese singers like My Tam, Dam Vinh Hung, Lam Truong, or actor Thanh Loc. They are very good, hard-working people. From them, I can feel the young spirit of Viet Nam. I think there are many excellent artists in Viet Nam.

* You have many artist friends who were usually present at events held by the Canadian Consulate General. So are they personal relationships or just diplomatic policies to foster bilateral relations?

* Good question! They are both, I suppose. With the Maple Leaf award, Canada focuses on the art field, and by means of art and culture activities we can know more about people's life. My relationships with Vietnamese artists were at first part of cultural cooperation between the two countries. However, when I feel affection for somebody, of course he or she will become my friends. Two years ago, I first met My Tam in the Maple Leaf award ceremony, now I can say she's my friend. We will have dinner together and heart-to-heart talk before I leave, only between the two of us.

* What can you say about the HCMC people and the Canadian community here?

* People here are very kind and hard-working. Particularly, they work hard not for themselves but for their children. That's what I admire so much. The Canadian community here is also great. They always support me and I feel very pleased with them.

* What will you do for Viet Nam after this term?

* I've got my new work. I will return to Ottawa, where the Vietnamese community of around 4,000 people is living. I will take part in their activities. And one thing I want to say, wherever I am the image of Viet Nam is always in my heart because I love you and your country. I will always be a happy ambassador of Viet Nam and Canada.