To mark the birthday of former President of South Africa Nelson Mandela, the Embassy of the Republic of South Africa decided to celebrate the occasion by doing charity work and raising donations to help children suffering from cancer at the National Cancer Hospital K2, in Hanoi on July 19.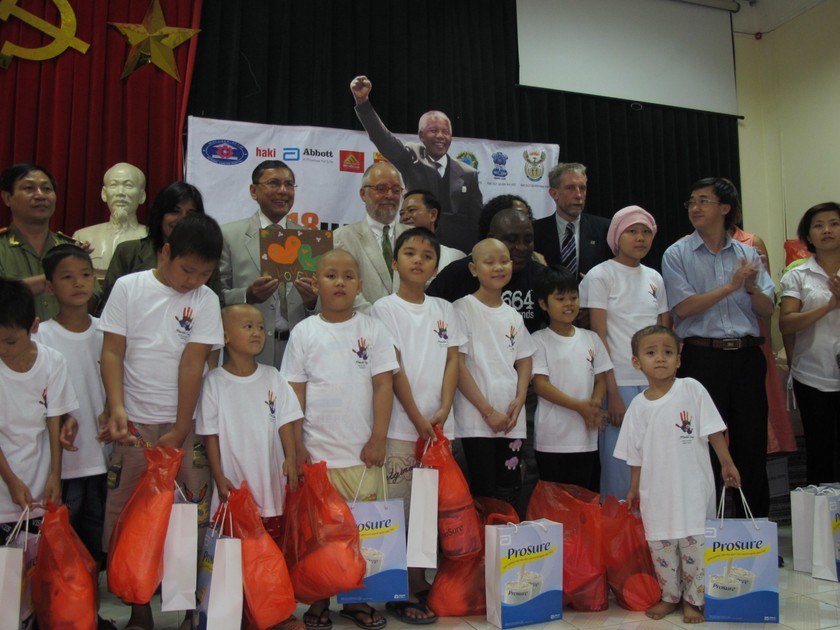 Youth cancer patients receive gifts from the Embassy at National Cancer Hospital K2 in Hanoi (Photo: Courtesy of the Embassy)
Joining hands with the South African Embassy in Hanoi to celebrate Nelson Mandela Day, the National Cancer Hospital, the Brazilian and Indian Embassies, An Ninh Thu Do Newspaper, the Vietnam Circus Federation, AAA Insurance, Haki and the Abbott Milk Company donated 60 packages of gifts, including milk, toys, candy and comic books worth more than VND60 million, to cancer-suffering kids in the hospital.
In addition, young patients also very much enjoyed a program performed by the artists from the Vietnam Circus Federation.
Nelson Mandela's birthday was endorsed as an internationally recognized day by the United Nations in 2009 in honor of Mandela's dedication in to humanity in conflict resolution, race relations, promotion and protection of human rights, reconciliation, gender equality and the rights of children and other vulnerable groups. Mandela Day is a call to action for people everywhere to take responsibility for making the world a better place, one small step at a time.