A shortage of capital has seen the construction of the national university zone in Ho Chi Minh City and the adjacent province of Binh Duong still far from finished after 10 years.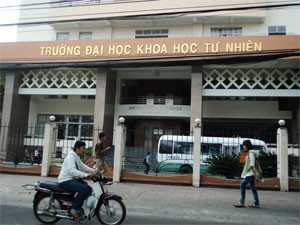 View of the University of Natural Sciences. The government plans to relocate members of the National University to a 650-hectares area in outskirts (Photo:Minh Tri)
In October 2001, the government approved the zoning plan of the national university zone in HCMC's Thu Duc District and Binh Duong's Di An District, with a total area of nearly 650 hectares for up to 50,000 students.
The zone will comprise of seven major areas: headquarter, studying area for national universities, technological research zone, sport zone, military education zone, dormitories and staff living area.
"The project was assigned to the National University and we are trying to build a modern university zone in accordance with the government's policy on relocate the schools," said Dr. Nguyen Dinh Tu, deputy chief of the secretariat of the National University.
"The approved investment was VND6.8 trillion (US$340 mbillion). However, the total investment must rise by four times due to inflation, increases in clearance compensation and building material price."
Statistics show the government granted a total investment of VND2 trillion ($100 million) in the last ten years, an equivalent of VND200 billion per year. The National University this year asked for a disbursement of VND1 trillion, but the government granted VND400 billion only.
The A dormitory of the university provides only 10,000 rooms, but these are not enough as nearly 3,000 other students still have to stay in rental rooms. The B dormitory with an investment of VND3.5 trillion remained under construction amid a shortage of capital.
"The total amount of student of the HCMC National University is up to 150,000," said Dr. Nguyen Minh Hoa of the University of Social Sciences and Humanities.
Members of the National University including International University, Technology University and Polytechnic University are lacking of class rooms and labs and still in debt to facilities builders.
The university also said clearance was among main reasons slowing down the construction, expecting the university zone will debut by 2010. Thousands of households living in the project area do not want to leave. Nevertheless, the zoning plan does not mention lands for the relocation.
Worries for students
Many students complaint hundreds of sleazy restaurants, noisy coffee shops and rooms for rent were built in the opposite side of the University of Natural Sciences and the University of Social Sciences and Humanities.
"The area is desolate and unsafe, making me always anxious. I have to pay a rental of VND700,000 ($35) per month for a room with an area of around 10 square meters only and no bed. I also have to walk by a dirty market on the way to class," said a girl student.