Deputy Prime Minister Hoang Trung Hai on Saturday visited the construction sites of three major ongoing traffic projects in Hanoi, that are presently facing shortage of funds, delayed site clearance and incomplete resettlement of residents.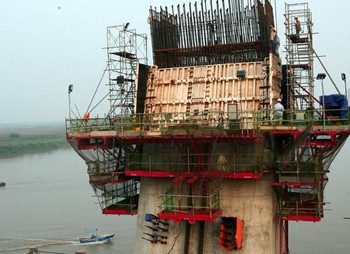 Construction of the main pillar of Nhat Tan Bridge (Photo: VNA)
The Ministry of Transport reported that all the three traffic projects in Hanoi which include the Nhat Tan Bridge, the road linking the bridge to Noi Bai International Airport, and Passenger Terminal 2 at the airport are on hold because of shortage of funds and obstacles such as site clearance and resettlement of residents.
According to the Ministry, the Nhat Tan Bridge project is short by VND1.4 trillion (US$67 million), required for site clearance and resettlement of residents, with immediate requirement of VND700 billion.
Similarly, Passenger Terminal 2 requires up to VND693 billion (US$33 million) more for site clearance. However, so far the state has provided only VND198 billion.
Construction of a major road to link Nhat Tan Bridge to Noi Bai Airport is also facing many obstacles in site clearance and resettlement tasks.
After inspecting all three works, Deputy Prime Minister Hai instructed the Ministry of Transport, investors and contractors to adjust and speed up their plans so as to complete all three projects by the end of 2014.