A large cargo vessel sank after colliding with two passenger ships on Nha Be River in Nhon Trach District in the southern province of Dong Nai on Friday afternoon.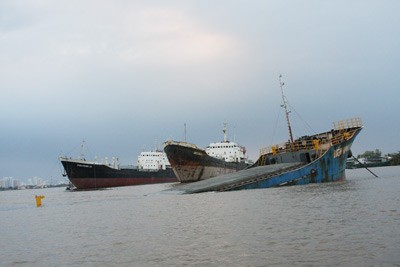 The sunken vessel
According to Vu Hong Anh, a crew member, the 3,200 tonne Bien Nam 17 cargo vessel with 12 persons on board, was carrying over 3,000 tonnes of clinker from the northern province of Quang Ninh to Ho Chi Minh City.
When the vessel approached the upstream river area, it faced a mechanical fault which caused it to lose control and collide with Maritime 36 and Agnes, the two passenger ships anchored at the river port.
The collision tilted the cargo vessel sideways causing it to sink subsequently.
A 22-year-old crew member from the northern province of Hai Duong got stuck inside the sinking vessel and is still reported missing. However, 11 other crew members escaped in time while the vessel was still afloat, with timely help from the Dai Minh Rescue Company.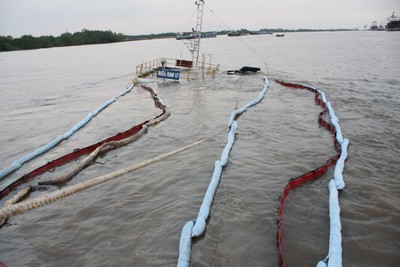 Old absorbent floats are dropped on the river water to prevent an oil spill
Soon after moving the rescued crew men ashore, the Dai Minh Company rescue team dispersed 700 metres of old absorbent floats on the river water to prevent an oil spill.
Rescue teams from Ho Chi Minh City arrived at the scene to find the missing crew member, but faced many hazards in their attempts.