The Notre Dame Cathedral in downtown HCM City will undergo its first renovation since it was built in 1887.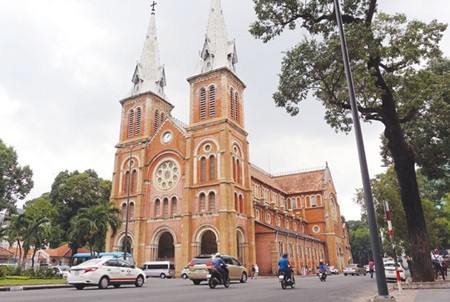 The Notre Dame Cathedral in HCM City's downtown is an ideal place for people to gather, especially at weekends. — VNS
Several partsof the church will be replaced with new materials. Renovation, which is expected to take at least six months, will not affect the original design of the structure.
Father Vuong Si Tuan of Notre Dame Cathedral said that the church clergy were working with authorities in the city to examine the status of the building.
According to a representative of HCM City Archdiocese, the upgrade will be done to ensure safety for parishioners.
The roof tile, two bell towers, pillars, mirror, and others parts of the building will be upgraded.
The external parts of the building will be cleaned. Bricks that are in poor condition will be replaced.
Materials will be imported from France, according to Tuan.
The church, designed by J. Bourard, opened in 1877. All building materials were imported from France.
The outside wall of the cathedral was built with bricks from Marseille. Although the contractor did not use any coatings, the bricks have retained their bright red colour until today.
For decades, the church has been a popular attraction for local residents and foreign tourists.
Every day, hundeds of tourists visit the area. Nguyen Van Tan, 61, who moved to HCM City from his hometown in Ha Noi 40 years ago, said the church had been part of his daily life.
"The building's architecture is very interesting. It's good to have the building upgraded, but it is sad if the appearance will change.
" I hope the architecture will remain the same as its original designed," said Tan, an amateur photographer. — VNS