The Hanoi City Department of Science and Technology on Friday hosted a seminar to discuss the recent spate of motorcycle and automobile fires, cause of which still remains unresolved.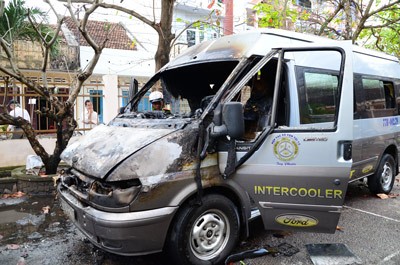 The mini van that burst into flames, early morning of February 11 (Photo: SGGP)
Most of the scientists present at the seminar attributed the fires to poor quality gasoline. Some others suspected that inappropriate   spare components installed in the vehicles could be triggering the fires.
However, none present at the seminar could come to any conclusive agreement as to the actual cause of the fires, which usually erupted very abruptly and charred an entire vehicle in a matter of minutes.
Dr. Le Xuan Rao, director of the department said that while scientists have not definitely reached a conclusion, people should remain vigilant and fill petrol at well established stations, pay attention to periodic maintenance and not install any components that are not designed for the original vehicle.
In related news, a 16 seater Ford mini van burst into flames early morning on Saturday in the central province of Binh Dinh.
The fire suddenly erupted while the automobile was parked along Ba Trieu Street in Quy Nhon town.
Witnesses said the fire flared up from the driver's cabin and quickly spread to the passenger seats. Some local men rushed to put out the fire but failed, as it spread far too rapidly.