After Vietnam's victory over Thailand December 28 to win the 2008 ASEAN Football Federation Suzuki Cup, the police report significant increase in traffic problems following floods of fans celebrating in the streets. More than 280 drivers were fined and over 200 people were victims of traffic accidents in HCM City.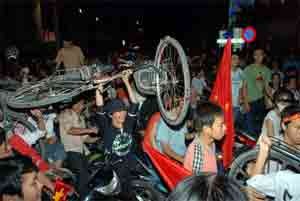 A street blocked by motorbikes and pedestrians (Photo by Vietnam Net)
According to HCM City Traffic Police December 29, too many people flocked out into streets to celebrate the team's victory leading to a sharp increase in traffic accidents and violations.

Between 9pm December 28 - 1am Dec 29, all streets leading to the city center were blocked by cars, motorbikes and pedestrians. The Traffic Police fined 282 people and impounded 212 vehicles, said the report.

Reports released by hospitals, including Cho Ray, People's Hospital 115, Trung Vuong and Saigon indicated a sharp rise in the number of traffic victims traffic compared with normal days. There were 206 emergency cases, one resulted in a fatality and 42 received head injuries.

On the same day in Hanoi, Dr. Cao Doc Lap, head of Emergency Ward of Viet Duc Hospital, said that from 10pm to 7am they received 59 victims, of which four suffered head injuries.

Dr. Pham Manh Than of Saint Paul hospital said they had received 32 extra cases.

In Hue City of Thua Thien, a province in the north central coast, Dr. Hoang Bach Thao, deputy manager of Administrative Department of Hue Central Hospital, reported 16 cases, of which seven suffered head injuries.